Deaf Ministry
Our Deaf Fellowship and ministry offers Bible study, retreats, missions, and programs locally and globally in ASL. Our sign choir performs monthly at our traditional worship service. We offer pastoral care, baptisms, weddings, and funerals in ASL by our pastor of the Deaf, Rev. Dr. Tom Hudspeth, who is assisted by Certified Lay Deaf Servants Susan Judd and Naomi Rapp. Upon consultation with our SEEDS team, we may provide life skills training for Deaf young adults, with one-on-one mentoring.
Seeds Ministry - "Serving and Educating Exceptional Deaf Students"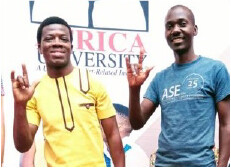 SEEDS is a 501 (c) 3 ministry that offers scholarships for Deaf students seeking certification, training, or specialized education to improve life and job skills.
Interested applicants are encouraged to request a scholarship form from the Lovers Lane Foundation by contacting Rev. Tom Hudspeth at

Our best success story has been supporting the first Deaf theology student, Collins Prempeh (l) and his sign language interpreter, Tonderayi Makaya (r) at Africa University, Mutare, Zimbabwe. Collins will graduate in 2023 and become the first ordained Deaf pastor in the Methodist Church of Ghana.
To receive our weekly newsletter, participate in our weekly Deaf prayer chat or to request more information, click here to contact Rev. Tom Hudspeth.