Men's Friday Morning Zoom Bible Study
Every Friday, 7:15 AM - 8:15 AM
For 8 weeks starting on May 19 we will be studying John Baker's book "Life's Healing Choices" led by Rick Warren.
"Life's Healing Choices" provides eight concrete, well-explained choices that are the foundation for a life-changing program. Promising freedom from life's hurts, hang-ups, and habits, this life-changing program assures participants that true happiness can be theirs, if they will choose it; for happiness truly is a choice. This promise of happiness is based on eight statements from the truest of all books - God's Word - and from the most revered Teacher of all time, Jesus Christ. In the well-known and beloved Beatitudes, Jesus shares eight statements that reveal God's pathway to wholeness, growth, spiritual maturity, and happiness.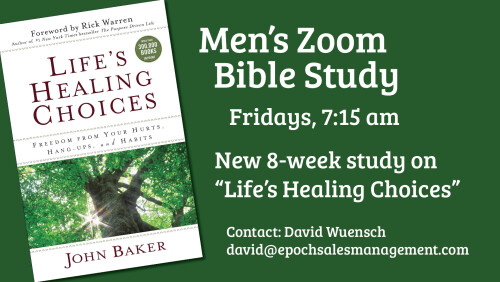 Childcare
Sorry, not available for this class.